170731 JJ Project, in the midst of GOT7 loyalty, unlocks 'VERSE 2' after 5 years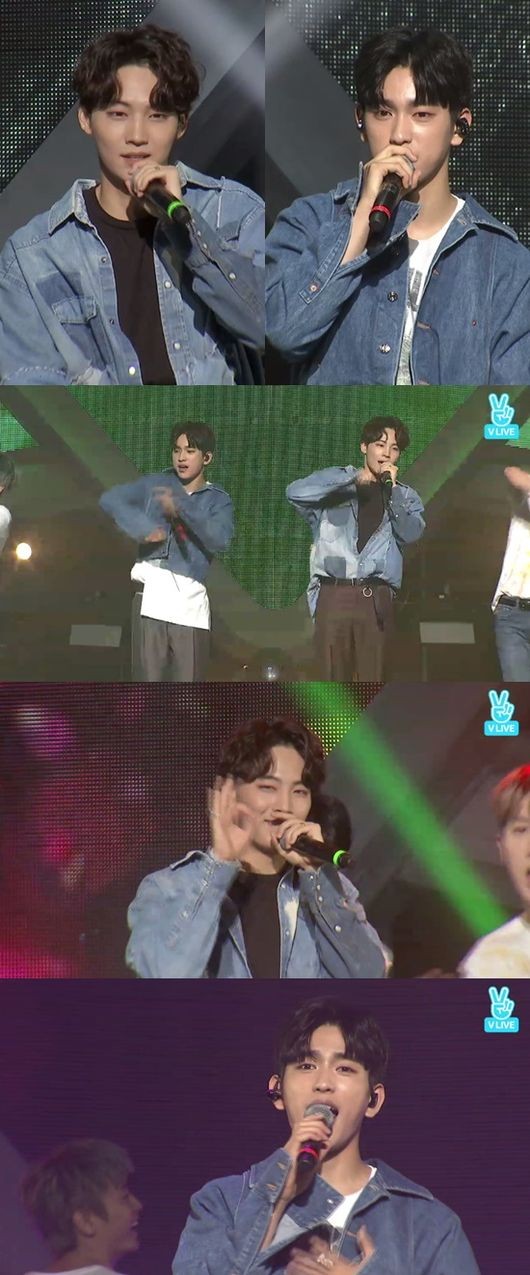 Duo JJ Project received the cheers of GOT7 members and stood in front of the fans after 5 years.
JB and Jinyoung got up on stage as a duo for the JJ Project 'Verse 2' showcase that was broadcasted live through Naver V app.
Starting off the showcase with 'Coming Home', JB said, "'It feels new; I've always thought that we would do this (JJ Project) again but it happened faster than I thought it would be, so I'm happy. With a fluttering heart, I prepared for the album even harder."
Jinyoung added, "I worked hard in preparing for this album so that it is not something to be ashamed of. Because we are a unit representing GOT7, I did not want to cause harm to the members, so I practiced hard. I think we made an album that we are not ashamed of ourselves so I'm happy that we can stand in front of the fans without feeling embarrassed."
After debuting as JJ Project in 2012, JB and Jinyoung then focused on GOT7 promotions from 2014 onwards. 'Verse 2' that JJ Project released after 5 years includes their compositions as well as lyrics, filling (the album) with their passion.
MC Go Youngbae asked, "Did the company push for you to compose your own music?" and Jinyoung replied "Our company is cold. If the songs aren't good, they will not use it." JB then added, "It's really like that. Even if they were not going to use the songs, we thought of including something we could express so we wrote the lyrics as well."
The title song, 'Tomorrow, Today' is like a self-portrait in which JJ Project, who have turned 23, wrote about the things they've experienced all this while. JYP head Park Jinyoung, together with JB and Jinyoung took part in writing the lyrics while Lee Woomin and Mayu Wakisaka composed the melody.
With respect to this, Jinyoung said, "We were careful about this because we were working with a veteran; we received a lot of help. Even on the day of the recording, he came to the studio, changed the melody and fixed the lyrics, making it better." Talking about the 2-3 corrections, JB said, "We talk among ourselves about the one theme and we each wrote the lyrics. From the start to the end. After that, we combined the good parts together. Since it was corrected 3 times, and there's 2 of us, there were 6 sets of lyrics at the end. But we used the parts PDnim wrote."

Through this album, the two of them 'experienced' solo songs and 'tried' professional photography. When speaking about their solo songs, Jinyoung said, "I think for a solo song, it's a song that I could write about my own story fully so I think there's a significance to it." JB then said, "It feels new to have it released officially as part of an album. I paid more attention to it and I wanted many people to relate to it so I pondered over it a lot." The two persons sang a verse from their songs unaccompanied by music on the spot and received cheers from the fans.
The members' loyalty to one another could be seen from the support message sent by the other members. In addition, Mark and Yugyeom personally came down to the venue. From Thailand, BamBam said, "You worked hard this time round; we truly support you and we like JJ Project lots too. I trust that there will be good results. I love you hyungs and see you when I get back to Korea."  Jackson said, "Truly congratulations. JJ Project is our originating group. GOT7's parents. Without JJ Project, GOT7 will not be here. Thank you so much and please cheer on our JJ Project. Because Jinyoung and Jaebum hyung are the cutest." Mark said, "GOT7 and ahgases are always cheering on JJ Project. GOT7 are too preparing hard so we will meet ahgases soon," and sent his cheers. Youngjae said, "I wanted to go and personally show support but (I can't) so it's regretful. I will be #1 in streaming so please cheer them on," while Yugyeom said, "Jaebum-ah, Jinyoung-ah, you guys are the best. I hope you don't get nervous and I'll be watching you so fighting!".